A new appointment in the Agora of the Ciudad de las Artes y las Ciencias in Valencia, to present proposals for the upcoming Spring-Summer 2012.
During the first three days will be shown on the catwalk, in scoop, thirty pret-a-porter's author collections, which are allocated/spread between the official gateway with Valencian and national designers, the Zona D contest with 6 emerging designers and fashion shows Off at 23:30 pm, which this year will be held on the Agora's lake and under the common denominator of the swimwear with free entrance.
On Saturday 10, on the VFW's catwalk will be held celebrating the Figaro Hairdressing II Awards, that brings together 15 finalists selected from 97 collections of 13 Communities to choose their 5 awards.
Throughout the last day, the parallel activities will go on in the Village, and we will also have the parade's novelty at noon, on the catwalk of the lake: fashionsocialnet-fsn. From Wednesday to Saturday, right next to the Agora, VFW launches a new fashion and design area: BLACKSPACE. More than 50 spaces for national designers, to promote trade and foster professional relationships among participants, in order to boost sales, promote brand image and networking.
DESIGNERS
Alex Vidal, www.alexvidal.com.es
Alejandro Resta
Aurelia Gil, www.aureliagil.com
Bibian Blue, www.bibianblue.com
Encarnis Tomero
Georgina Vendrell, www.georginavendrell.com
Higinio Mateu, www.higiniomateu.es
Ion Fiz, www.ionfiz.com
Jaime Piquer, www.jaimepiquer.com
Juan Andres Mompo, www.juanandresmompo.com
Juan Vidal, www.juanvidal.net
Juana Martin, www.juanamartin.net
Manuel de Gotor, www.manueldegotor.com
Moises Castañeyra, http://moisescastaneyra.com
Paolo Coppolella,   www.paolocoppolella.com
Siglo Cero
OFFICIAL PROGRAM
CELEBRATION PLACE
ÀGORA BUILDING (Ciutat de les Arts i de les Ciències)
From September 7 to 10, Àgora becomes the seat of the XI Valencia Fashion Week occupying all their installations to the long and wide of its 5,000 m2. A space to present the prêt-à-porter collections Spring-Summer 2012 season, with a runway with huge features that leads the european ranking.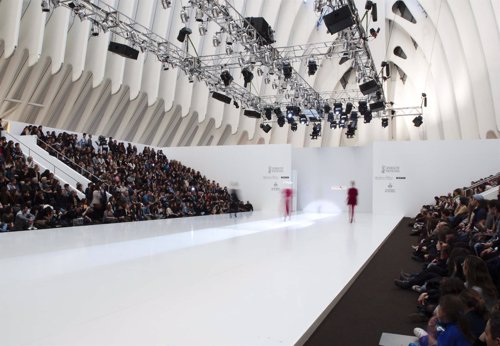 ÀGORA LAKE (Ciutat de les Arts i de les Ciències)
This new space will host the Zona Off in the XI edition of Valencia Fashion Week. From Wednesday to Friday at 23:30 pm., once concluded the parades in the Àgora, it will take place the OFF shows, dedicated to swimwear in Àgora lake.
VFW PARTIES IN L'UMBRACLE TERRAZA

YO DONA
The first day, Yo Dona magazine and Valencia Fashion Week start up the night with a welcome party to all fashion followers in Valencia and Comunidad Valenciana.
Wednesday September 7. At 24.00 h .
L'Umbracle Terraza (CAC)
FIESTA HEINEKEN
Heineken® quiere celebrar su estreno en la Valencia Fashion Week, con una fiesta que será el punto de encuentro más esperado de la semana. Se celebrará tras el impresionante desfile de la Zona Off en el lago del Ágora.
Jueves 8 sept., a las 24.00 h.
L'Umbracle Terraza (CAC)
VALENCIA FASHION WEEK
The third day VFW wants to celebrate his complicity with the people who lives their daily  demonstrations and proposes an extension of activities as closure of official runway.
Friday 9th September, at 24.00 h. L'Umbracle Terraza (CAC)
FIGARO AWARDS
After making Award Ceremony at the great annual Gala, Figaro will honor its 5 awardees with a valencian night party on the top of the stylistic gateway activity.
Saturday 10th September , at 24.00 h.
L'Umbracle Terraza (CAC)
Discover all the parallel activities, fashion set, off zone event, services….on