One big part of Spanish culture is the expressive world of Flamenco. AlthoughFlamenco is an Andalusian and not a Valencian invention, it is Spanish so it sounds through the streets of Valencia and entertains the people in many bars as Pop Music in middle Europe.
If it is a spontaneous performance in the maritime district which has a substantial amount of gypsies (gitanos) or flamenco on the beautiful Valencian promenade, inValencia you won't miss the Spanish vitality.
As typical Valencian characteristic the City understands to combine old traditions with modern influences. So you will often find genuine gitanos with impressing Flamenco performances within modern environment.
Although Flamenco is an important part of Valencian Life, there are just a few places for organised Flamenco shows which are really worth to know:
Radio City
It is a mega popular club in Valencia that puts on a full-on party on weekends and a cultural programme during the week.
Flamenco every Tuesday is part of that programme. There are several flamenco groups that come to play here regularly, all of them well-known flamenco artists in Valencia. You will always get the full set – the guitar, the voice, the percussions and the dance (either male – usually Leo Molina or female – usually Cristina Simon).
This is not the kind of flamenco party where everyone joins in with all the energy – more like the watching of a serious performance. You are ensured a genuine, high level flamenco experience here.
Calle de Santa Teresa, 19 46001 Valencia, Spain         www.radiocityvalencia.com
La Claca
La Claca is another cosmopolitan nightlife spot popular with the foreigners, expats and internationally minded locals in Valencia.
La Claca offers pretty much the same flamenco experience as Radio City, with the same flamenco artists on the roster, only on Sundays and at an earlier time.
These shows are not for taking part in as it is more a sitting and enjoying of a serious Flamenco show
C/SAN VICENTE Nº3,Valencia, Spain
www.laclaca.com/flamenco/flamenco
Cafe del Duende
One of the most genuine Flamenco places.Cafe del Duende is a small and inimate bar on the edge of Carmen.It is a cosy space for some of the most authentic flamenco in Valencia. Some of the flamenco artists of Radio City and La Claca perform here, but Cafe del Duende also has a number of its own favourites.
The flamenco here doesn't tend to have the dance part often – usually the guitar and the voice. Check their website if that is important – if you see "baile", then there will be dance as well.
Check the website in any case, since the flamenco shows here are sometimes more irregular than in other venues – while Thursday is reliable, Friday isn't always and sometimes performances are on Wednesday. Arrive early as the place is really small.
C/ Turia 62, 46008 Valencia, Spain www.cafedelduende.com
El Toro y la Luna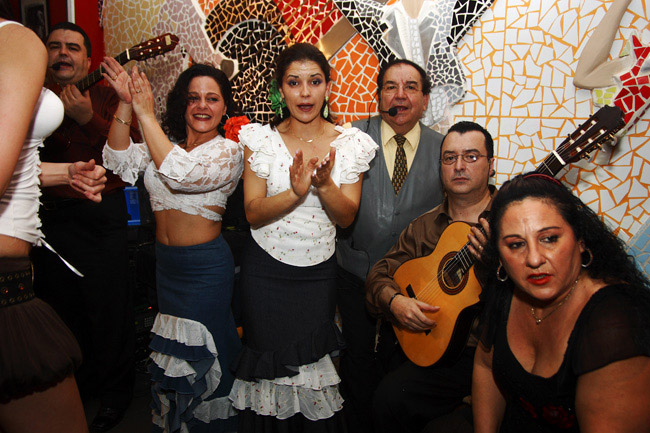 El Toro y La Luna gives three hours of flamenco for 3 hours 4 days a week. The catch is that it's a strange place.
They have a resident flamenco group which can put a decently average performance but this group usually shares the stage time with another group.
This another group changes often and can be anything from a decent flamenco to unbearably awful pop synthesisers.
It is a strange ambience – a restaurant with a stage, with a strictly above 40 years old clientele. And overall the place doesn't project an ambience of high culture if you catch the drift. However, the resident group is a charismatic, if somewhat crude, set of characters and you may find a fair bit of humour and more light-hearted air in this quirky bizarre place. An adventurous traveller would enjoy this.
Plaza del Mestre Ripoll 14, Valencia, 46022 www.eltoroylaluna.com
Bodeguita Cavallers
Bodeguita Cavallers is a small bohemian tapas bar on Calle Caballeros – the main drag of Carmen.
Normally a quiet place for a tapa with some flamenco CDs, every now and again, after midnight, it sporadically breaks into a real free-style flamenco party with everyone grabbing whatever they can to jam in, or just clapping and dancing along.
This is a truly amazing and authentic experience, real fun and good time. It is a really spontaneous occurence so they only way to catch it is to be passing by when it happens to take place.
C/ Cavallers, 10, Valencia, Spain